WDJD-3A Earth Resistivity/IP Meter is not only support SP survey, VES sounding as well as 2D Resistivity imaging with 2D imaging survey accessories, for more details, please refer here:
WERT series
2D Resistivity Tomography System.
Applications:
• Underground water inspection
• Engineering geology inspecting as dam base exploration and flood
• Metal source exploration
• Non-metal source exploration
• City geophysical exploration
• Railway and bridge
Arrays (up to 11 kinds):
•

4P-VES (sclumberger&Wenner)

•

3P-VES

•

Dipole-dipole(VES)

• 4P Electrical Profiling

•

Mid-grandient

• 5P-VES

• IP-BUR

......
Main Features:
•

Transmitting unit and receiving unit are of all-in-one design, portable and lightweight.
•

CMOS large-scale integrated circuit, special stand-by mode, compact size, low power consumption yet multi-function; system automatically cuts off power supply if there is no operation on it in 10 minutes.
•

High anti-interference performance and measuring precision, integrated with multistage wave filtration and signal enhancement technologies.
•

Automatically achieving compensation of self-potential, drift and electrode polarization.
•

Receiving unit supports transient over-voltage protection, transmitting unit supports over-voltage protection, over-current protection and AB open-circuit protection.
•

Measured curve can be plotted on the display directly and clearly.
•

Large display screen, English edition keypad and menu, flexible for operation.
•

Setting working period freely, 10 kinds of common array configurations are available; electrode distance is inputted and array factor could be calculated automatically.
•

Electrode distance table: memorizing 100 different groups of distances among the electrodes, avoiding repetitive input; input number can call the electrode distances to function or to reset.
•

Earth resistance inspection: Earth condition of the electrodes can be inspected at any time.
•

Mass data storage: able to memorize maximum 3500 readings of survey points.
•

All parameter and data are under power-failure protection; and thus data will not loss when system shutdown or changing battery.
•

Diagnostic program finds fault or failure and damaged parts quickly and accurately.
•

Sealed constitution: feature waterproof and dustproof design, long lifetime.
Technical Specification
Receiving

Voltage channel

± 6V, ±1 % ± 1LSB

>50MΩ

Apparent polarizability precision

±1% ± 1LSB

SP compensation range

±1V

Current channel

6A, 24 bit A/D

Suppression

suppression is over 80dB for 50Hz industrial frequency (common mode interference or differential mode interference)


Transmitting

Maximum transmitting power

4500W

±90

0V

Maximum current range

5A

Voltage channel

±24A, 24 bit A/D

Input resistance

≥50MΩ


Others

Working temperature

-10℃~+50℃, 95 %RH

-20℃~+60℃

eight size-D dry cells

≤ 55mA

≤ 7Kg

Dimension (L×W×H)

310mm * 210mm * 210mm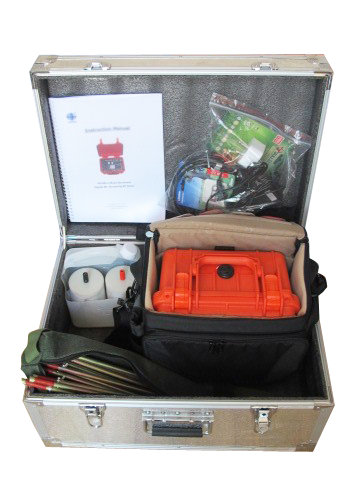 -------------------------------------------------------------------------------------------------------------------------------------------------------------------
Note:

In order to ensure the safety of customers, our sales department only keeps the following email addresses:

- Sales@langeoinstrument.com
- Emily.chou@langeoinstrument.com

Other mailboxes are unofficial, please note.

-------------------------------------------------------------------------------------------------------------------------------------------------------------------