Abstract:
Fractal and multifractal scaling can be found in a wide variety of geological, geochemical and geophysical applications, which provide important clues to underlying processes. In this study, the multifractal singular value decomposition (MSVD) method was used to delineate geophysical anomalies associated with Mo mineraliza- tions based on 1:25,000 scale gravity and magnetic data in the Luanchuan super-large molybdenum polymetallic ore district. The results show that: (1) negative gravity anomalies in the Luanchuan ore field have strong spatial relationships with Jurassic granite porphyry bodies associated with porphyry- and skarn-type Mo mineraliza- tions; (2) the uncertainty linked with identifying gravity and magnetic anomalies' areas is correlated with cutoffs defined in the multifractal models, which can be utilized to recognize potential Mo mineralization at depths ranging from 500 m to 2000 m; and (3) positive magnetic anomalies have weak spatial correlations with Jurassic granite porphyry bodies, but are strongly correlated with gabbro and syenite porphyries associated with Fe mineralization, and with the boundary of Jurassic granite porphyry. Compared to the 3-D Jurassic granite porphyry model and the 2.5-D gravity and magnetic inversion plots of the study area, the gravity and magnetic anomalies identified by means of the MSVD method can be integrated to identify potential Mo targets. This application demonstrates that the MSVD method is convenient, simple, rapid, and direct for delineating geophysical anomalies and for outlining potential exploration targets without processing multiple geological, geophysical, and geochemical datasets from disparate sources.

1.Introduction:
Mandelbrot's (1983) fractal geometry provides a powerful tool for describing and simulating complex forms and patterns in nature. Many geological phenomena are scale invariant, e.g., frequency-size distribu- tions of rock fragments, faults, earthquakes, volcanic eruptions, mineral deposits, and oil fields (Turcotte, 1997). Scale invariance provides a rational basis for the applicability of the fractal distribution (Cheng, 2004; Mandelbrot, 1983; Turcotte, 1997). Fractal and multifractal models are well established and have been effectively applied for describing the distributions of geological objects (Bansal et al., 2011; Carranza, 2009; Cheng, 2008; Mandelbrot, 1983; Turcotte, 1997). Fractal and multifractal distributions have been used to map geochem- ical anomalies (Carranza, 2010a,b; Cheng, 2007a; Cheng et al., 1994; Wang et al., 2012a; Zuo et al., 2009c). Many geophysical data sets, including surface gravity and magnetic data as well as topographic elevations, have power-law spectra (Turcotte, 1997). Multifractal scaling can be found in a wide variety of geological, geochemical and geophysical applications, and the applicability of multifractal statistics to study a natural phenomenon may provide important clues to its underlying physical processes (Cheng, 2008; Turcotte, 1997).
Singularity is a property of many different types of nonlinear natural processes, including cloud formation, rainfall, hurricanes, floods, land- slides, earthquakes, wildfires and mineralization (Cheng, 2008). The spatial distributions of mineral also follow power laws (Bansal et al., 2010, 2011; Carranza and Sadeghi, 2010; Carranza et al., 2009; Pilkington and Todoeschuck, 1993; Turcotte, 1997; Zuo et al., 2009a, 2009b). The main proposition supporting the use of nonlinear theory and the application of power law models is that mineralization results from singular processes that can be characterized by power law models (fractal/multifractal) (Cheng, 2007a; Zuo et al., 2009c). In the nonlinear theory, ore-forming processes represent one kind of singular geological processes that may result in an anomalous amount of energy release or material accumula- tion within a narrow spatial and temporal interval. Mineral deposits and ore-forming anomalies resulting from singular geological processes exhibit fractal/multifractal distributions, which can be described by power law functions (Cheng et al., 2009; Wang et al., 2011). Filtration and extraction from geophysical data information associated with ore- forming processes (i.e., recognizing and separating them from the whole complicated geological process) are the subject of the present study.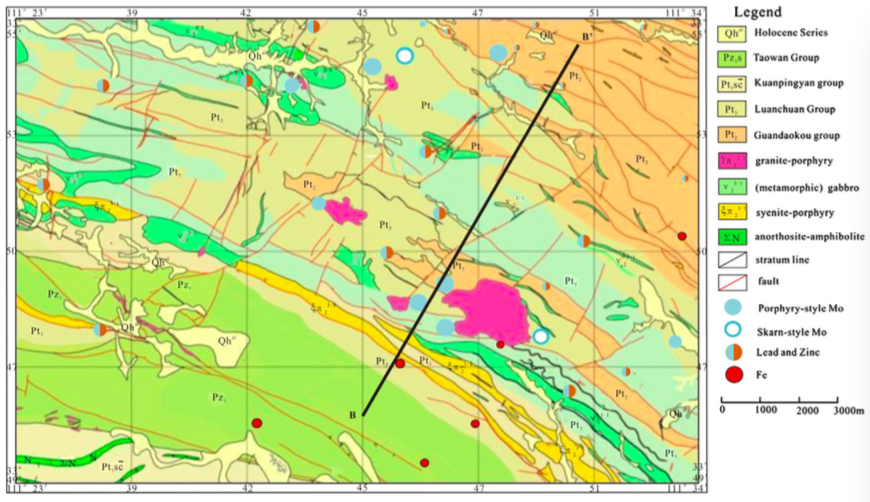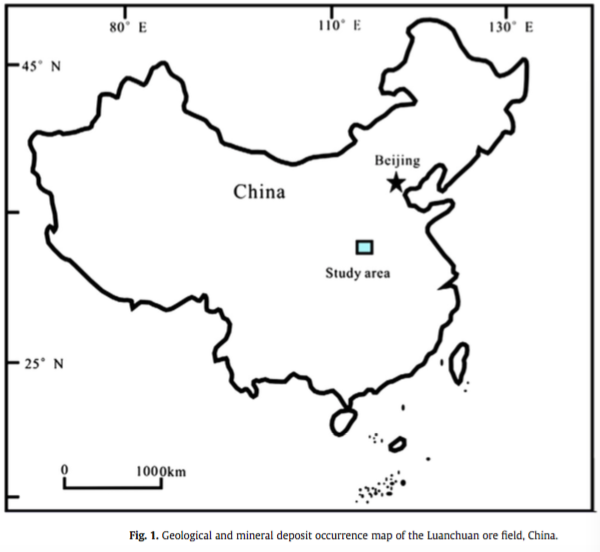 The multifractal singular value decomposition (MSVD) method is based on both singular value decomposition (SVD) and fractal/ multifractal theories. The SVD has been used in geophysical data processing, e.g., for compressing seismic reflection profiles (Jackson et al., 1991; Ulrych et al., 1988), radar processing (Cagnoli and Ulrych, 2001), enhancing weak signals in vertical seismic profiles (Freire and Ulrych, 1988). It has also been used in multi component seismic polarization filters (De and Musacchio, 2001; Rao and Bhimasankaram, 2000) and noise separation. SVD is also termed matrix spectrum decomposition since singular values (SVs) obtained from SVD are analogous to projection coefficients for quantifying how much energy SV-related subspaces contribute to total energy (Rao and Bhimasankaram, 2000).

he matrix spectrum decomposition plays a similar role to that of the power spectrum in the frequency domain (Li and Cheng, 2004). The latter method has significantly increased the usefulness of fractal/multifractal theories and methods (Bansal et al., 2011; Cheng, 2007b; Li, 2005; Maus and Dimri, 1994, 1996; Pilkington and Todoeschuck, 1993; Turcotte, 1997).
This paper aims to (1) analyze scattered geophysical data in 2-D gravity and magnetic data surveyed at a scale of 1:25,000 in the Luanchuan ore field (China) using the MSVD method, (2) investigate the spatial relationship between deep geological bodies/structures and Mo mineralization in the ore field by deriving gravity and magnetic anomaly information at a particular frequency, and (3) provide valuable evidence for mapping targets for Mo mineralization. These results were compared with those of the 2.5-D and 3-D gravity and magnetic inversions (Wang et al., 2012b).

2. Methodology
The SVD is a useful tool in the field of numerical linear algebra (Alter et al., 2000; Lewis et al., 1999; Li and Cheng, 2004; Schertze and Lovejoy, 1991). A matrix A(m,n) can be decomposed into a series of eigen images. The eigenvalues represent a fractal/multifractal distribution described by a power law function (Cheng, 2005; Cheng et al., 2009; Li and Cheng, 2004; Zhao and Chen, 2011). It is a factorization of a rectangular matrix A(m,n) into orthogonal matrices, which can be decomposed into products of eigenvalues (λi) and eigenvectors:

where r is the rank; σi is the i-th SV or weight with σ1 ≥σ2 ≥⋯≥σr ≥0; ui and vi are the left and right eigenvectors, respectively; uiviT is an A(m,n) matrix of unitary rank, called the i-th eigen image of A(m,n). The σi and eigenvalues (λi) can be written as follows:

Eq. (2) corresponds to the spectral energy densities of eigen images (Cheng, 2007b; Li, 2005). Therefore, the total energy (i.e., a measurement of the energy within a spectral energy radius or scale)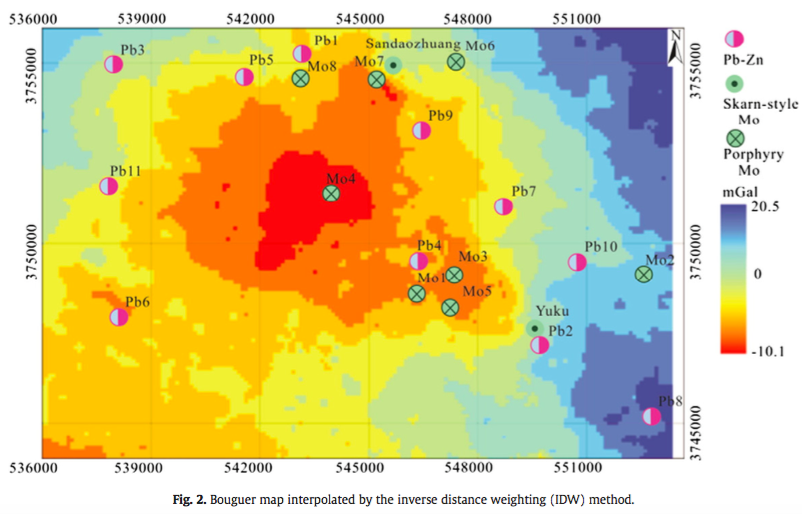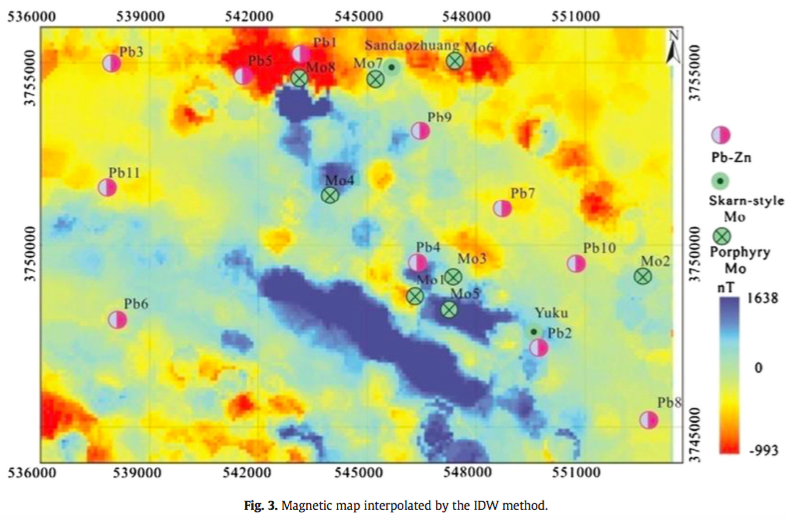 squared SVs are larger than λi and can be written as (Li and Cheng, 2004):


Based on Eqs. (3) and (4), an energy within the radius of the corresponding energy can also be expressed as an energy spectrum for certain scales. To rank for format as italics matrices, the different energy measures have a sequence of scale variation corresponding with the energy spectrums. If the energy measure represents anisotropic scale invariance, it can be described by a multistage power law distribution (Li and Cheng; 2004; Mandelbrot, 1983; Turcotte, 1997). Eqs. (3) and (4) can be then expressed, respectively, as (i.e., they can be one segment or multiple segments (fractal or multifractal) in a log–log plot):


where E(SVk) is the k-th SVk spectral-energy density of A(m,n). Usually in different scales, Eq. (6) will have different exponents or the bi-logarithm coordinates of corresponding to multiple slopes are defined by different line segments (Li and Cheng, 2004). Therefore, Eq. (6) can be utilized for defining cutoffs to separate eigenvalues into groups, and then each of the groups can be combined to form decomposed components of the gravity or magnetic map.
In this study, the MSVD method was implemented using GeoDas software (Cheng, 2000) and the resulting maps were integrated and analyzed using Matlab and ArcGIS softwares. The outer SVD map of the left and right eigenvectors forms an orthogonal self-contained base. The selection of SVs and their corresponding subspaces was therefore an important issue in the present SVD study.
The SVD–MSVD method involves plotting a graph of energy/ spectrum density versus energy/spectrum radius (or spectrum scale) (Lewis et al., 1999; Li and Cheng, 2004) on a log–log coordinate system (i.e., the MSVD plot). Straight-line segments indicating clusters of energy in the subspace are fitted to the plot using the least-squares method. The 2-D MSVD map reconstructed from such clusters of energy often contains significant textures or structures reflecting specific geological, geochemical, geophysical or ore-forming processes. The MSVD method does not need to estimate the power spectrum. Therefore, there are no map edge effects caused by the power spectrum estimation (Cheng, 2000).
Based on the multifractal energy structure, the MSVD method is proposed here for the selection of SVs to separate anomalies from background in a geophysical map, and for texture or structure reconstruction (or extraction) to map mineral potential. The MSVD has a number of advantages for handling exploratory datasets, and it is more sensitive to linear texture or structure than other methods of SVD (Cheng, 2007b).


3. Case study
3.1. Geological setting of the Luanchuan ore field
Luanchuan is located in southwestern Henan province (China) and it is an important Mo and Pb–Zn–Ag polymetallic district covering about 210 km2 (Fig. 1). The area is tectonically situated in the eastern part of the Nannihu Mo polymetallic metallogenic belt along the southern margin of the North China Craton (Mao et al., 2009; Wang et al., 2011, 2012b; Yan and Liu, 2004; Ye et al., 2006). The Late Proterozoic syenite, metamorphic gabbro, and Jurassic granite porphyry are associated with mineral deposits where NW and NE trending faults have developed, and acted as foci of ore-forming polymetallic metallogenesis, favoring large and super-large Mo deposit formation.